Por fin llegó el momento de estrenarse de nuevo en la Liga. Aunque ya llevo 5 ligas y media, siempre es especial empezar una nueva temporada, más aún si hay nuevos rivales y nuevas listas jugosas con las que pegarse.
Uno de ellos es Javier López, 'Belwar', aunque ya nos habíamos enfrentado en
un torneo de Mid
en la que me dio muchísima guerra con sus franceses, y en otro orden de frikismos, en el In Tempo de Blood Bowl. Buen rival para empezar, y una lista que podía hacer bastante daño a
mi 3ª Acorazada de Remagen
según se dieran la mesa y la misión. Su lista es esta Westfalen, también del libro Bridge at Remagen
Te voy a dar a ti Enjoy the war, 'salao'
HQ con dos Panzerfaust, dos Panzerschreck y 4 Panzerfaust traps FT
Ersatz SS Aufklarüngs con 7 peanas FT
Ersatz SS Aufklarüngs con 7 peanas FT
2 HMGs (atacheadas) FT
4 morteros FT
Pelotón recon con 4 rifles FT
3 Panther RT
1 Königstiger RV
3 NW 41 RT
2 Ostwind RV
A toda esa ensalada de panzerfaust se medían mis carros. Tenía auténtico pánico a sus traps, pero si jugaba concentrado y alejándome de sus posibles zonas de emboscada, así como extendiendo todo lo posible el radio de influencia de mi reconocimiento, tenía opciones de anularlo. Pero, una vez más, mesa y misión serían claves.
Y tocó una mesa de desierto, lo que de por sí reducía sus opciones de emboscar con los traps. Y además tocó de misión un Breakthrough, que le obligaba a mover su infantería trained. La cosa pintaba bien, pero quedaba mucho camino por delante.
Situación
aproximada
de escenografía, misión y objetivos
Coloqué, como siempre, los objetivos lo más separados posibles, para que estuvieran cerca de mis zonas de despliegue y reserva. Uno junto a la colina central, y otro junto al bosque. Él decidió no salir con todo lo no móvil, supongo que evitando perder los pelotones débiles pronto de cara a una posible moral de compañía. Sacó los dos pelotones de infantería con los panzerschrecks y las HMGs atacheadas, el Königs y los NW41. Yo decidí dejar en reserva los Shermans, para flanquear a su Königs y que, con el Improvised Armour de los mismos, pudieran lidiar con infantería y jugársela a un hipotético asalto sobre su infantería.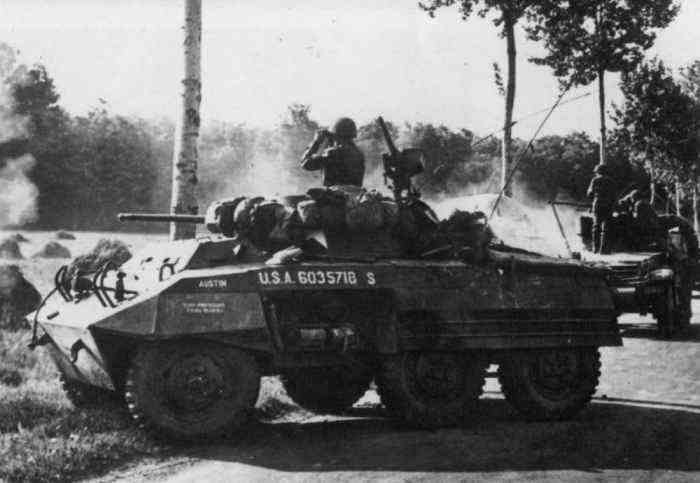 Así que los del recon no valemos para nada, ¿eh?
Mi idea era que los Chaffees transportaran rápido a la infantería para que, con la moral de Fearless, se comiera al Königs, colocado junto a la colina central, más aún suponiendo que su infantería se alejaría de él al ir a disputar el objetivo. El Super Pershing lo usaría de Super Sniper, avanzando por el borde de la mesa para cazar en un descuido al KT si dejaba un lateral, o a unas malas cazando a los NW.
Al final, ni una cosa ni la otra. Mis Chaffees se movieron, quedándose al otro lado de la vía, a un turno de asaltar al KT, que además fue humeado. Mi recon anuló durante toda la partida toda zona posible de despliegue de sus traps con riesgo directo, tanto en la fila de palmeras que había, como en la vía de tren y la colina. Él, en su primer turno, movió al doble con toda la infantería disponible. Delante de unos Chaffes, eso era un suicidio. Su KT se quedó donde estaba, a distancia de asalto...
¡Tira 'pa ya', pal Königs, a lo loco!!
Mis Chaffes, ignorando por completo al Königs humeado de nuevo, dejaron que la infantería desmontara y se lanzara a por el bicho, mientras que ellos ametrallaron a su infantería, reduciendo a la mitad uno de los pelotones. Pero el asalto falló, de hecho la infantería se quedó pineada en ese turno por los NW y se quedó así toda la partida pese a repetir siempre con el 1iC. Con todo, su participación era ya algo secundario, ya que la partida se resolvió a tiros entre los Chaffes y la infantería.
Antes de que los mataran los Panthers, los Chaffees acabaron matando a uno de los pelotones de SS y reduciendo al máximo el otro, Enjoy the War mediante, mientras que llegaban los Shermans para volar de lateral al KT. Sin KT ni infantería suficiente para defender los dos objetivos, y con sus tanques demasiado lejos, la victoria era mía por 5-2.